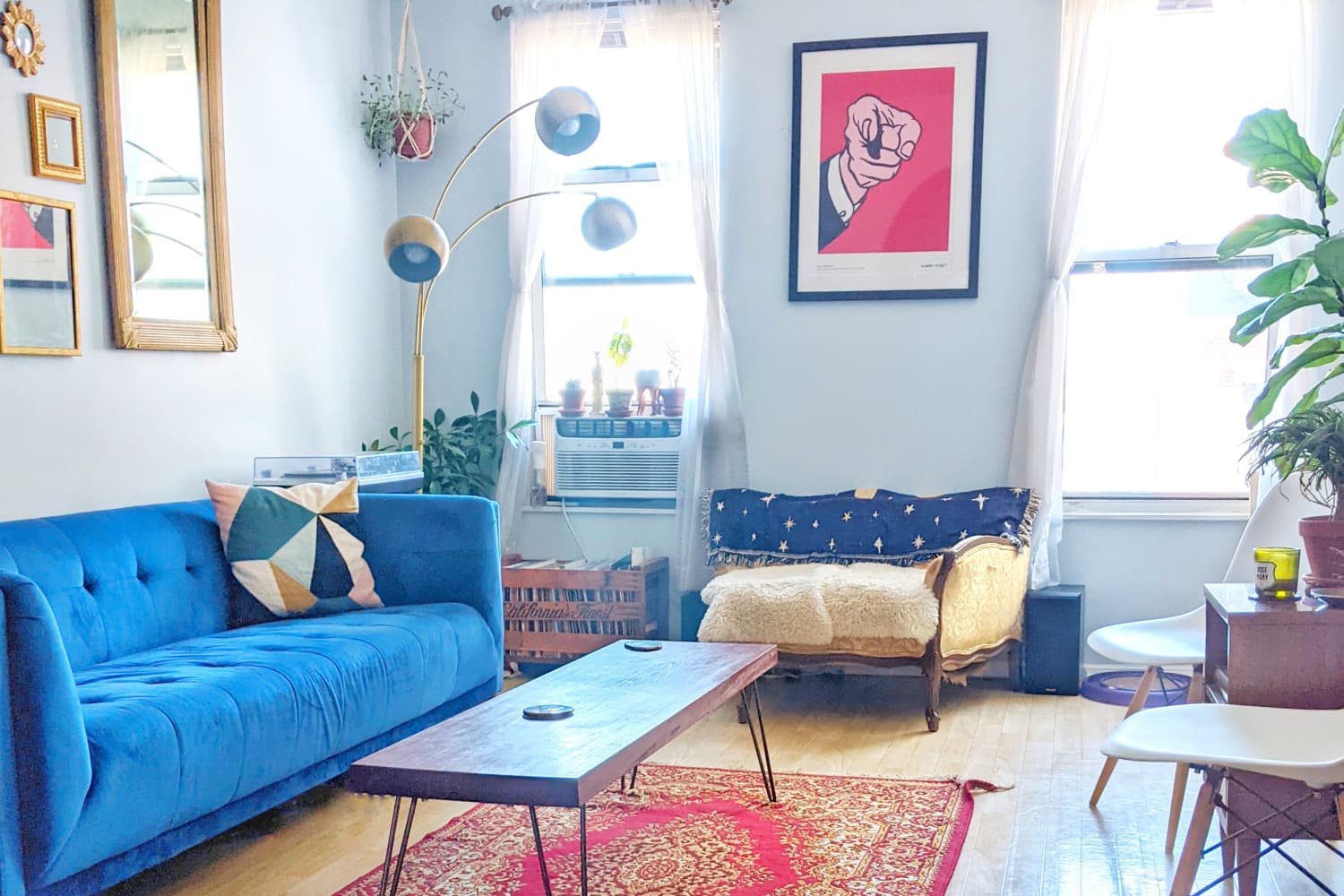 We independently select these products—if you buy from one of our links, we may earn a commission.
Name: Tiffany Lucke, my husband Matt, and two cats (Gully and Golly)
Location: Greenpoint, Brooklyn, New York
Type of home: Railroad Apartment
Size: 800 square feet
Years lived in: 5 years, renting
Tell us a little (or a lot) about your home and the people who live there: Myself, my husband Matt, and our two Maine Coons cats Gulliver and Goliath (Gully and Golly) live in a small railroad apartment in the heart of Greenpoint Brooklyn. I work in museum education at an NYC design museum, Matt is an analyst at an international bank, and Gully and Golly are professional snugglers with a specialty in troublemaking. The apartment that we live is in a unique space in that it is an open plan railroad design that presents a lot of unique challenges and also opportunities! Despite the fact that I come from an artistic background, Matt has definitely been the creative visionary for our home and I have contributed my Craigslist and thrifting skills to bring the vision to life.
We both have a broad range of interests and hobbies, which are reflected in our home. The art on our walls spans from a Pop Art Lichtenstein print to original vintage Jugend covers and our decor represents an eclectic blend of mid-century modern, Hollywood regency, and French Provincial. Our identities don't fit cleanly into a box and neither does our style!
Describe your home's style in 5 words or less: Bright, Eclectic, Comfortable
What is your favorite room and why? My current favorite room is our newly re-done kitchen (but it's a close tie for first with our living room!). Matt and I have always loved spending time together in the kitchen cooking, making cocktails, and listening to podcasts. Now that it's been updated with fun new floors and bright white counters, our kitchen's light airiness has made it my favorite place to be!
What's the last thing you bought (or found!) for your home? I recently bought a pony-tail palm plant that my cats Gully and Golly are obsessed with. Our home is filled with dozens of plants, many of which are off-limits to our cats. This one is non-toxic and was added to our home with them in mind, though! It's so much fun to watch them run into the living room every morning and check on their plant before doing anything else.
Any advice for creating a home you love? Let the limiting factors of your space inspire creative inspiration! Some of our favorite and most unique parts of our home were a design solution in response to a challenging part of our apartment. Another thing that has been important in our space is taking our time and not rushing things to come together before we had the time or finances to do it right. Waiting and watching for the right piece of furniture or art to come along at the right time rather than settling for the next best thing has made such a difference.
This submission's responses and photos were edited for length/size and clarity.