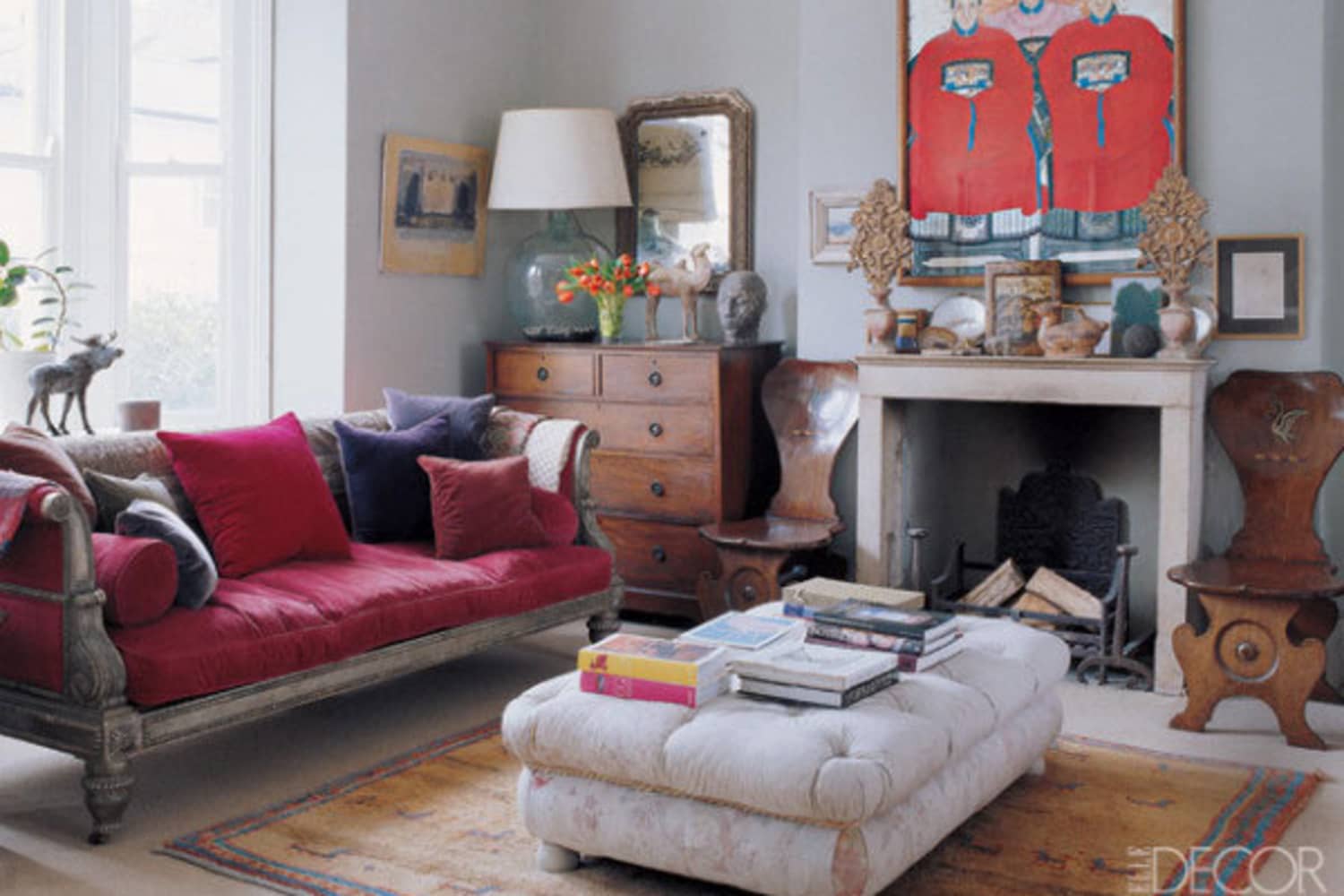 Few decor items are more meaningful than a vintage piece gifted from a loved one. It's no surprise then that interior design enthusiasts have an affinity for decorating their own homes with decor accents that they inherited from their fathers. "To me, any gift a father gives is special," says interior designer Jenelle Lovings. "My father isn't one to give gifts just because, so when he does, it's with purpose and meaning, making them all the more important."
Interested to learn what kinds of hand-me-down decor items interior tastemakers display in their own homes? From a treasured drawing to a beloved photography book and more, 10 design influencers share the most cherished antiques they received from a fatherly figure ahead.
"A few years ago, my father gifted my sister and I a framed sketch of himself with our mother. What I love the most about this photo was that he sketched it himself. It is a representation of how he saw my mother through his eyes. It is the same sketch he used for their wedding invitation. For my wedding, one of my cousins gave me that very invitation. She kept it all these years.
As of right now, it is integrated into a shelf I have, filled with items I've collected over the years." — designer Jenelle Lovings
A Beloved Coffee Table Book
"Any heirlooms handed down from my daddy make it special, because he passed away, and these items help me remember his personality, quirks, and preferences. It makes me feel like he's still present in my home.
I especially love my father's Gordon Parks photography book. My father was a seasoned and professional photographer, and I know how much Gordon Parks' work meant to him. I proudly display his book atop my coffee table." — designer Dominique Brielle Fluker of DBF Interiors
"With my father in North Carolina, it's especially nice having pieces in my New York apartment that were given to me by him. He has always loved antiques — and he passed that on to me. One of my favorite things in my house growing up was a set of six Coalport plates — all of which had been broken and then stapled back together sometime in the 19th century. The repairs were so bizarre and interesting, and I always loved looking at them.
It's become a tradition of sorts for him to give me stapled ceramics as he finds them — for birthdays and Christmas. I love looking at them as works of art, and I have them arranged in a mid-19th century family pie safe that I painted hot pink. But I also love using them, too. We generally keep our Keurig pods in a stapled 18th century punchbowl, hummus and chips go on a Coalport Imari plate, and a Japanese bowl lives in our front hall and holds sunglasses." — William Cullum, senior designer at Jayne Design Studio
A Hand-Me-Down Kitchen Table
"Some of my favorite pieces in my home belonged to my paternal grandmothers, and I'm lucky enough to have my great-grandmother's antique enamel-topped table that she used as a kitchen island to roll out her biscuit dough. My dad remembers it being in her kitchen, and I love that memory from him.
Our family has deep agrarian roots, and the history of my grandmother feeding her family and providing meals for the farmers through her hard work on this table makes me happy every time I pass by it!" — Maggie Griffin, founder and lead designer at Maggie Griffin Design
"Antiques handed down from generation to generation are so special because of their unique history. When a father or grandfather passes something down, it is like they are passing down their memories to you. Every time you look at the piece, you think of them and all of the happy memories they created using it! When I got married, my dad gifted me his mother's china, which had previously been gifted to him. It is incredibly special to be able to serve my future family with the china that he grew up using with his parents and siblings!" — Alexandra Eads, Society Social Charlotte home decor buyer
A Priceless Lounge Chair and Rug
"I grew up on Long Island, and I swear that my father invented the man cave. The basement of our modest ranch home included a full bar, living room, and dining room. The open floor plan was zoned beautifully, and perched in the corner between one chocolate brown sofa and the curved 1970s tiled bar was my father in his Eames lounge chair.
I grew up laying on our cowhide rug watching TV as kids do, on the floor, while mom was on the sofa and dad in his favorite chair. When he passed away, I discovered that he had the chair reupholstered and retained the same cowhide. I have kept these two pieces all my life, and they live in my home office.
My father's love of mid-century design, rich chocolate browns, beige, texture, and pops of orange have clearly influenced my design style. I pop on a vinyl record and think about him in his chair, although I rarely sit in it myself. To be honest, I found this piece more form over function, but he loved it, and its sculptural design is iconic and modern nearly 50 years later. It is incredible how vintage pieces and heirlooms immediately connect us to our past and evoke beautiful memories. I also find it highly amusing that my father's style and design choices have influenced my personal style through osmosis. He definitely had style!" — design publicist Raymond Paul Schneider, founder of RPS Consulting
"The beauty about an heirloom is that it has been a part of your family for years and when handed down, it reflects the person's life that gave it to you, which makes it extremely special.
My father passed down a lovely Buddha painting that I have hung in my home for years. It is such a beautiful piece that reminds me of my father and adds the perfect touch to the serene aesthetic of my living room space.
This piece is special to me, because it represents my father and his positive spirit. Every time I look at it, I think of him and it reminds me to always focus on the positive and be the best person I can be. I love that it is hung in my living room as it gives it pride of place in my home and it allows my family and I, as well as our guests, to appreciate it." — designer Nina Magon
"This mahogany campaign desk had been my grandfather's desk in his New York City apartment. It's special to me, because I vividly remember him working at it on Saturday mornings when I would often visit. It was situated in a beautiful bay window. The desk is now in our living room in Southampton and is used occasionally. This summer it was called into action, because we had six adults working from home during COVID and we needed every available desk and flat surface." — Barbara Karpf, founder and CEO of DecoratorsBest
Sentimental Stamp Collection
"My grandfather had two lifelong passions: my grandmother and stamp collecting. The stamps are from all around the world, and I see each one as little windows into those countries with endless stories. Recently handed down to me, his stamp collection and the sentimental value of knowing how many years of joy it brought to him is my most treasured antique." — Marta Galaz, co-founder of paper goods company Casa Felix
"My dad gifted me a book filled with notes and instructions pertaining to all aspects of life right before he left me in college. It is filled with nuggets of wisdom and common sense advice that I still use today and it sits on my nightstand." — Vero Torres, co-founder of paper goods company Casa Felix