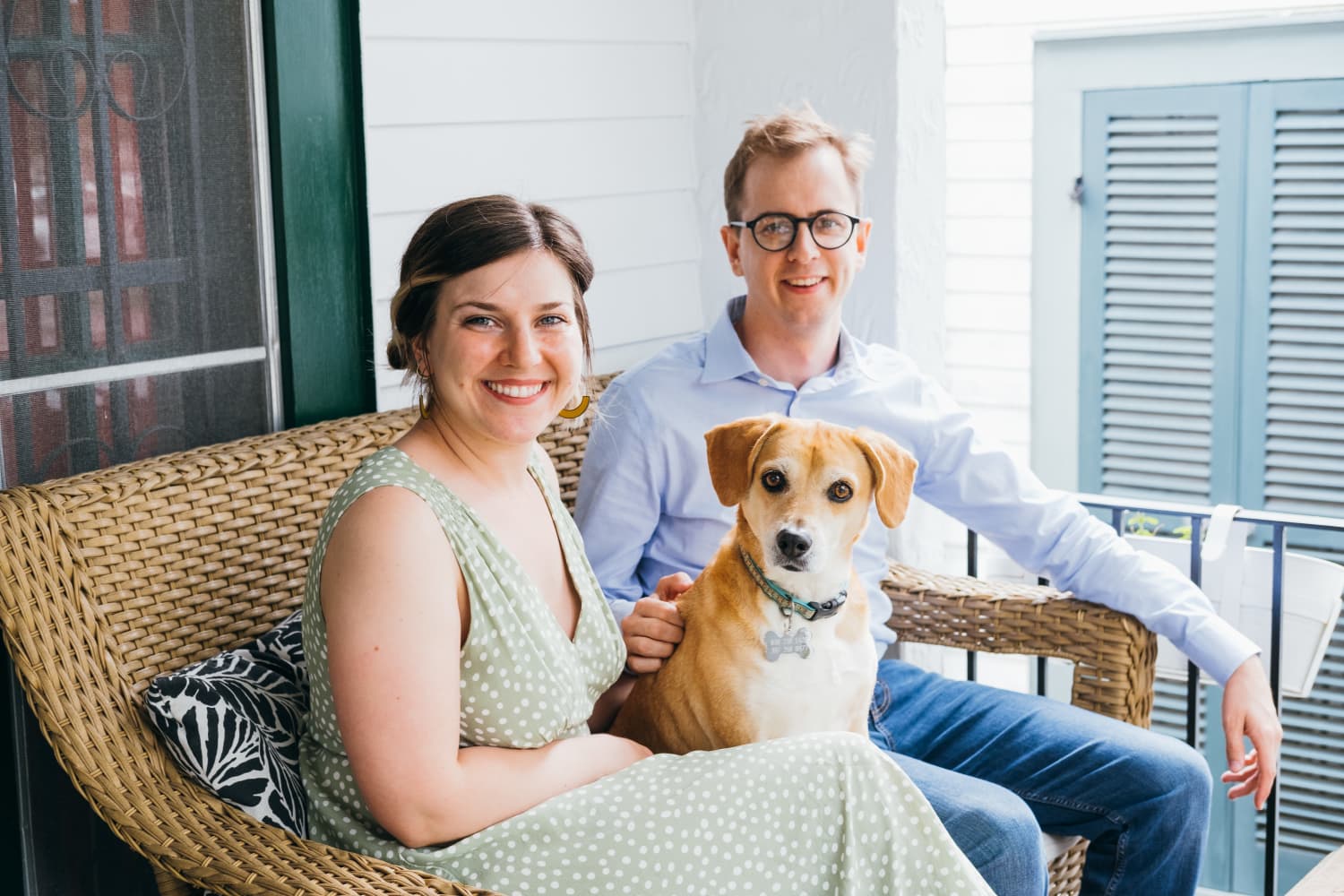 We independently select these products—if you buy from one of our links, we may earn a commission.
Name: Emily Thibodeaux Meyer, Andy Meyer, and our dog Clementine
Location: Mid-City — New Orleans, Louisiana
Size: 860 square feet
Type of Home: Double Shotgun House
Years lived in: 4 years, renting
Emily Thibodeaux Meyer and Andy Meyer's double shotgun in New Orleans' Mid-City neighborhood embraces the city's porch life. "Porch sitting is one of our favorite New Orleans past times. We've met most of our neighbors by either passing them on their porch while we walk Clementine or seeing them walk by our house! After seeing someone over and over it just makes sense to strike up a conversation," begins Emily, who is a creative director, stylist, and maker documenting all of her projects on her website and on her Instagram feed.
"This is the second place me and Andy have lived together but I would very much call this our first home. We found it on Craigslist and couldn't have got luckier! It's a double shotgun meaning there are two units that mirror each other and a shared porch. Our landlord lives in the other half and he's basically turned into a part of our family. It's an everyday occurrence that we both leave our doors open and our dog Clementine runs back and forth between our house and his. We also share food, which is so amazing. He will give us fish he caught and I'll give him homemade baked goods."
Apartment Therapy Survey:
My Style: Thrift store chic but make it comfortable
Inspiration: Bold colors and pattern are my biggest inspiration and usually my starting point for any kind of creative project whether that be decorating a room or making a costume.
Favorite Element: I love our porch and the street we're on. It's pretty busy and there's a lot of foot traffic, which I really like. It's fun to sit and people watch. We're also on the second floor, which means you can overhear some really great pieces of conversation because most people don't look up to see that there's someone on the porch on the second floor.
Biggest Challenge: The combination of the layout and size of the rooms is a big challenge. Because it's a shotgun-style you have to leave a walking path to get through each room into the next and that combined with a relatively small room means there are very few options for where to put furniture and what kind of furniture will work in the space.
Proudest DIY: Definitely the cabinets I made! They're really simple but the thing that makes me the most proud is that first, they came out exactly how I envisioned them, and second I only used a hacksaw and a drill to put them together (plus a ton of patience and maybe just a little crying). It was one of those projects that prove you don't need to have expensive equipment to make it happen. I'm very much into the idea that you should use what you have and make it work. It's also the most recent "big build" I've done so it's the star child until I work on something new.
Biggest Indulgence: Our couch! I wouldn't purchase this couch if we had a bigger living room but this one was worth it because it's literally the only couch that fit all of our criteria. This goes back to the biggest challenge in our house being layout and size of rooms. We knew we wanted a sectional because we wanted something all three of us could sit on together and because we thought it would look the best in the room versus a smaller couch and armchair combo. It was a huge challenge finding a sectional that could fit in this room without completely blocking the doorway. Most of the small sectionals have a chaise as the short side but that would have looked really strange in our space because it would have been facing the wrong direction to fit and it would have looked out of place. We also wanted it to be in a light color because Clem sheds so much that we have to buy furniture that matches her. I'm aware of how ridiculous that statement is but it's the honest truth. We ended up finding this modular sectional from Abbyson Living that's available at Target and Wayfair and I'm sure lots of other retailers. The complaint is that because it's modular the pieces tend to shift as you're sitting on it so there ends up being a gap between the sections and it's super annoying. I tried to attach the pieces together at the bottom but it did not go smoothly.
Is there something unique about your home or the way you use it? I think we have a pretty conventional home for the most part. The front room is my studio, which I guess is a little odd but when you live in a city where literally everyone has a costume closet it doesn't feel that strange to have a room dedicated to pom poms and sequins. We've deemed both my studio and Andy's office the messy rooms of the house. I can't complain about his office being a mess as long as he doesn't complain about my studio being a mess. It's a pretty fair deal in my opinion!
What are your favorite products you have bought for your home and why? I just bought this lint roller from an Instagram ad and part of me felt like it was going to be such a scam but it's actually amazing!! Clementine has very coarse hair that gets into everything and this does such an amazing job at removing it. It's kind of a workout to use but totally worth it. I'll run it over the rug after I've vacuumed and still manage to collect so much of her fur. 10/10 would recommend it if you have a pet.
Please describe any helpful, inspiring, brilliant, or just plain useful small space maximizing and/or organizing tips you have: Like every room of our house the bathroom is tiny! Mix a tiny bathroom with a short human and there's no place to keep a step stool so instead of trekking to the kitchen to grab it I installed rock climbing holds on the wall so that I can reach the top shelf easily. My tall friends were very confused when I told them about my brilliant plan because I don't think it crossed their minds that reaching a top shelf would be such an ordeal.
Because we live in an old house there's not a lot of storage or closet space so we keep our shoes in almost every room of the house under whatever furniture it fits under. It's like a game of memory trying to figure out where your shoes are when you're getting ready in the morning.
Finally, what's your absolute best home secret or decorating advice? I watched a home tour with Amy Sedaris and she said once you accept that you're never getting your rental deposit back it's amazing because then you can just do whatever you want. I think about that all the time. Because of that I've decided I'm never asking permission to paint an apartment again and let me tell you it is liberating. Another piece of advice I would say is to find a barter or free Facebook page if there is one in your area! My biggest setback from creating the home I wanted for years and years was not having the budget. Thrift stores are great but a lot of times my budget was zero. Finding barter/trade groups or attending or organizing swap meets are excellent ways to get things like house paint, furniture, scrap wood, etc. I would also go on drives the night before trash day to look for curb alert items people had just put out that I could snag. Some of my favorite pieces to this day are roadside finds! You can always upgrade later on but don't let lack of funds stop you from rolling up your sleeves and making your house feel like a home.
This house tour's responses were edited for length and clarity.