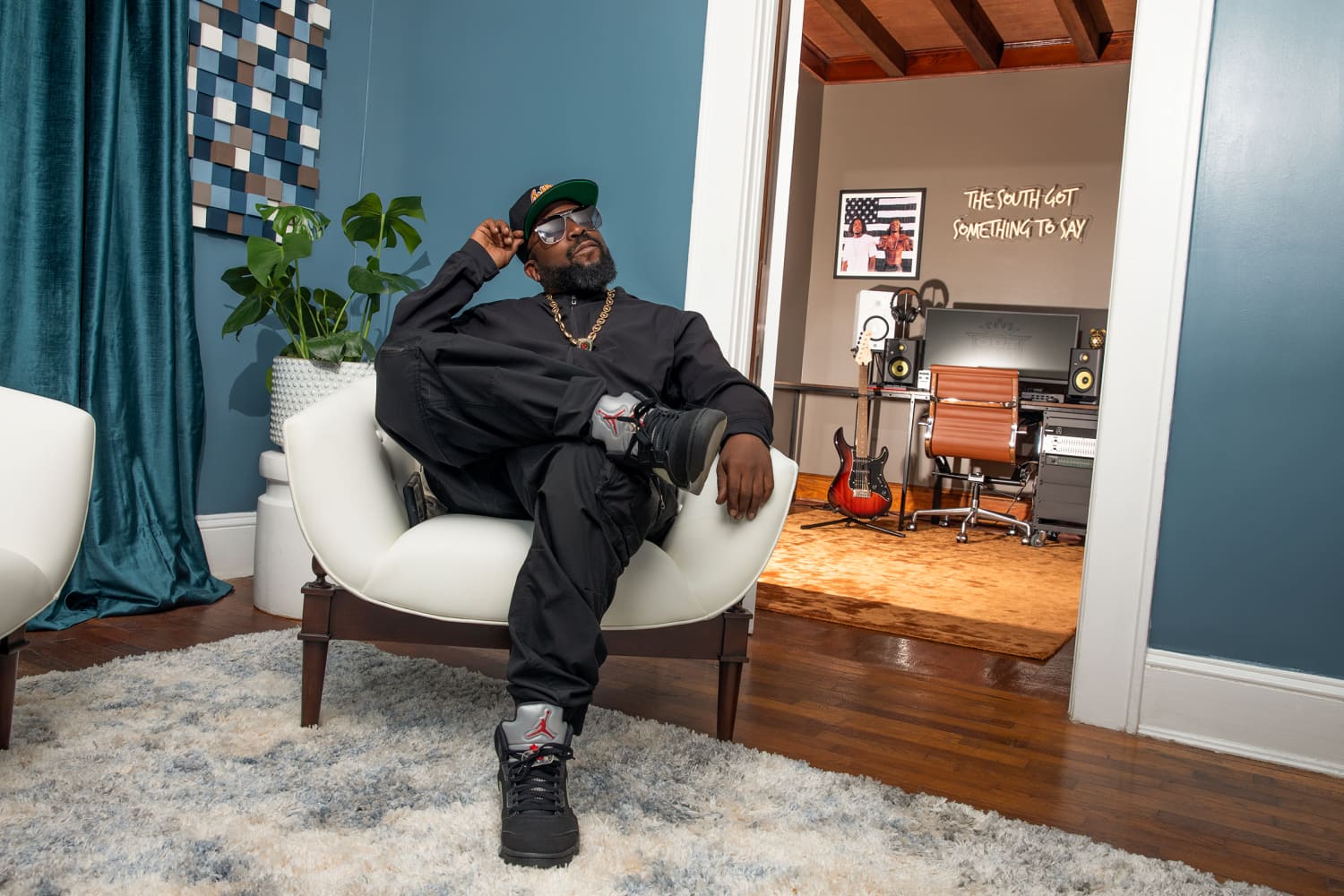 We independently select these products—if you buy from one of our links, we may earn a commission.
Calling all ATLiens and Outkast super fans: Rapper Big Boi has put the group's beloved Dungeon Family House on Airbnb, and you can snag a stay for just $25.
In honor of Black Music Month and the 25th anniversary of Outkast's release of "ATLiens," Big Boi (real name: Antwan André Patton) will host three overnight stays at The Dungeon, best known as the original stomping grounds of Outkast and The Dungeon Family, which included hip hop innovators like Andre 3000, Goodie Mob, and Organized Noize. It's where they crafted their magic over the years, and the walls still bear signatures of some of the artists who got their start there.
"Atlanta is my home, and I grew up with The Dungeon Family in this house," says Big Boi in a statement. "We would spend hours hanging out in the basement, writing rhymes and putting together beats at all hours of the night. Since purchasing the home, I've been excited to open its doors and welcome the next generation of artists to the space that inspired countless songs."
The overnight stays at The Dungeon will occur on June 29, July 1, and July 3, and are filled with fun events drawing from the history of the property. Participants will have guided access to the basement of the house, where Outkast and Goodie Mob recorded some of their breakout hits. They'll be able to play records in rooms styled to commemorate key Atlanta locations that inspired their music, and experiment in the in-home studio, outfitted with Yamaha audio equipment. An Escalade will pick guests up from the Atlanta area and bring them to the venue in style, but they're responsible for making their way to Atlanta on their own.
Keeping COVID safety in mind, guests must currently live in the United States to book the venue. Of course, an onsite staff will follow Airbnb's five-step enhanced cleaning process.
While The Dungeon is entrenched in hip hop history, Big Boi just purchased the iconic location two years ago.
"The Dungeon Family now owns the Dungeon," he can be heard saying in an Instagram video, showing off the brick property. "How bout dat?"
There's some additional good news along with the event: Airbnb will make a donation to Atlanta Public Schools Music Department in recognition of the significant impact of music education on Big Boi's career.
If you're interested in crashing at the iconic pad, you can request to book this stay beginning Friday, June 25 at 1 p.m. EDT.