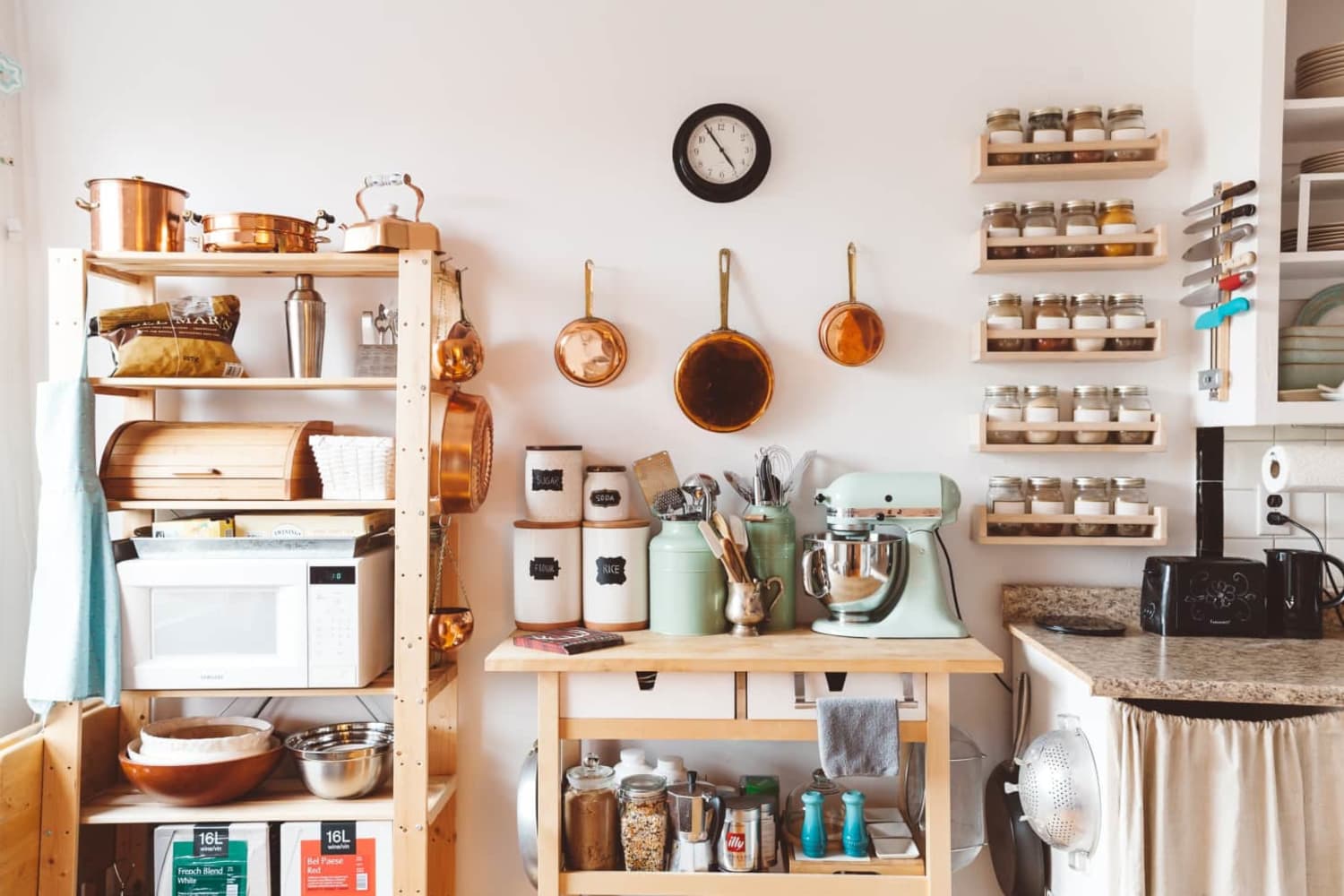 We independently select these products—if you buy from one of our links, we may earn a commission.
When my husband and I moved to our present apartment a year and a half ago, I quickly realized that there simply wasn't room for a coffee station in our small kitchen. Rather than use up precious counter space, I decided that my beloved Keurig would live off to the side on a leaning desk. With that necessity came a revelation: I had created a dedicated coffee station, with shelving above it for decor.
The small shift inspired me to create a whole new morning coffee ritual. I had an opportunity to be really intentional with what I put on those shelves, and I decided that this new space would be a hub for positivity and beauty, two things I always want to start my day with but tend to deprioritize while rushing through my morning.
Wherever your coffee pot lives, being intentional with what you have in your space can help you get energized and focused for the day ahead, even if it's just for a few minutes as your coffee brews. Creating an intentional coffee station supports me in setting a strong foundation for my day, and as long as I remember to stay present for those first few moments as my coffee brews, I know I am setting myself up for a great day ahead. Here is what my new and improved coffee ritual consists of, and the essential items I use in my routine.
Take a moment to be present.
For me, being present simply means paying attention to where I am and how I feel in the moment. Having a coffee station that is pretty to look at helps me get present, but of course, taking time to be in the here and now doesn't have to look a certain way at all.
During my new morning ritual, I pay attention to the smell as my coffee brews and listen as the coffee pours into my cup. I feel the warmth of the mug on my hands (or the coolness if I'm pouring a serving of cold brew!) and express some silent gratitude as I take the first sip.
It also helps to have mugs that I love. Sure, your mugs don't have to have any personal significance, but I love having mugs that I find beautiful, have encouraging words on them, or evoke memories. One of my favorite mugs was a gift from a friend and I always smile when I see it. It invites me to pause for a moment and brings a small moment of joy to my morning.
Recite words of affirmation out loud.
The shelving on my leaning desk offers a perfect spot for displaying beautiful things that I want to see first thing in the morning. In addition to pictures and art, I love having framed words of affirmation, so I currently display a print that says "Keep Going," which is such a great reminder for me to take small steps towards my goals every day.
Your words can be even simpler than a fancy print. I've also framed notes and "thank you" cards from loved ones who have shared especially lovely sentiments that I want to treasure. Hand-written sticky notes also do the trick. I repeat my words of affirmation in my mind as my Keurig warms up and as the coffee pours, and sometimes I'll even say them out loud if I really want to feel them.
According to a study published in Procedia, motivational self-talk works! The study showed that basketball players who spoke words of affirmations to themselves out loud performed better than their peers who stayed silent. So especially on a day where there's lots to do, saying phrases like, "I can do this!" may help pump you up for whatever you have ahead of you.
Play some music to support your mood.
I've added a mini speaker to my coffee station, and if I'm feeling especially sluggish, I'll play a song to get me going. There are dozens of pre-made playlists to choose from on most music platforms, and you can decide what kind of vibe you want, depending on what you need that day.
On days where I need a kick in the pants, I'll crank Cardi B, and on other days where I'm feeling more mellow and focused, I'll opt for a playlist of acoustic covers. Music can set the tone for your day, stir up new energy, and nurture the feelings you want to create, so choose wisely!
Set an intention for the day.
Deciding on the energy I want to embrace for the day has helped me stay positive and focused as I go about my tasks. For my practice, I try to make intentions less about the things on my to-do list, but rather about how I want to show up in the world on any given day. I might make an intention to focus on all the good in my life, allowing myself grace as I navigate my day, or finding beauty in as many things as I can in the upcoming day. I like to think about my intention as I sip my coffee — as I continue to drink throughout my morning, I imagine it filling me up with all the positive energy I've decided to create.
Not sure how to set an intention? Life coach and spiritual teacher Gabby Bernstein suggests asking yourself four questions each morning:
Bernstein suggests writing down your answers, so keep a journal nearby if that's useful to you. "This method combines creative visualization with clear intention setting and feeling good," Bernstein writes. "As you design your day, allow yourself to feel really good about what you're writing down and ride that wave of positive momentum!"
Keeping your intention positive will keep your energy up, so instead of saying, "I'll stop being hard on myself," try an affirmation like "today I show myself compassion."