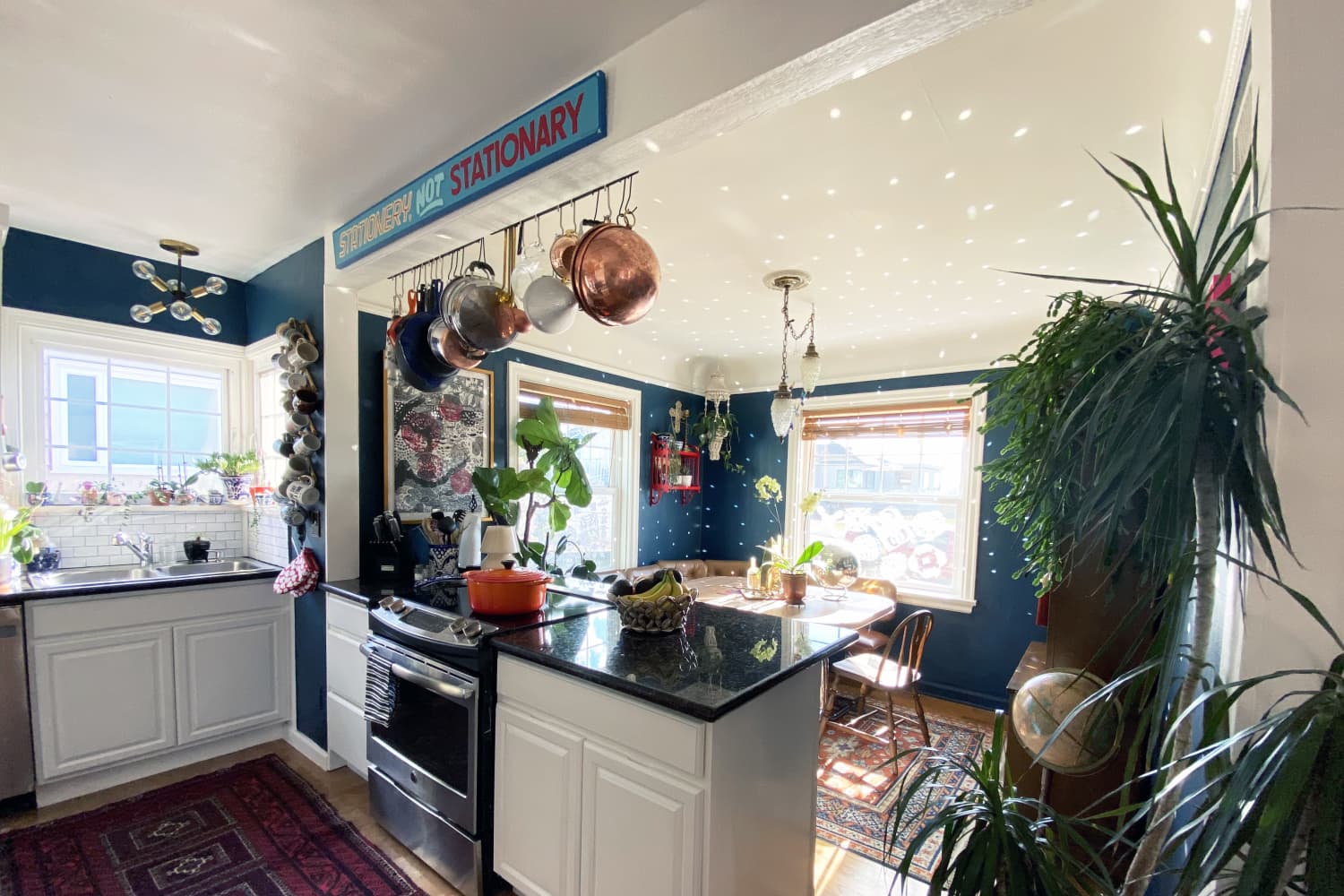 We independently select these products—if you buy from one of our links, we may earn a commission.
Name: Karen Sawyer, husband, and sister, with two cats, Duchess and Ada
Location: Bremerton, Washington
Type of home: 1940s house
Size: 1600 square feet
Years lived in: 6 years, owned
Tell us a little (or a lot) about your home and the people who live there: There are four of us living in this house. Myself, my husband, his sister, and our daughter. My husband's work has him leaving for long periods of time, the last one (due to COVID) was a whole year. Having his sister live with us has been a life saver while he's absent. It's fun creating traditions that include our extended family and finding ways to keep connected even when family is halfway across the globe.
I live in the town I grew up in. I drove by this street numerous times, never thinking I'd live here. I can remember how excited I was to leave this town and originally how bummed I was to have to return. However, as I invested in my community, I love it and my life here. Bremerton has a growing arts community and because it's a small town, I've found it easy to get dug in and take an active part. My house reflects our interests and what we're passionate about. It's hard to walk in and not see a bunch of artist/makers live here. The art in the main room reflects travels my husband and I have taken as well as things or places that are important to us. I commissioned a sign by a good friend that gives a hint to my business and framed my sister-in-law's famous pancake recipe. It's touches like these that make it home.
Describe your home's style in 5 words or less: Estate sale in a greenhouse
What is your favorite room and why? My living room. It's both comfortable and put together. It's a real mix of everything I love. Art, family, vintage, books, and plants. It looks good when people walk in the room, but it's not precious — my daughter can play and create in it without me worrying about the furniture.
What's the last thing you bought (or found!) for your home? An amazing set of card catalog style drawers from Goodwill (I had no idea where I could fit them, but when I saw them, I knew I had to buy them) and a sweet little propagation set up from Hilton Carter's line at Target. The one I bought is sold out, but this one from Hilton Carter's website is similar.
Any advice for creating a home you love? Everyone says go with your gut, and that's totally true — but it helps to have some background knowledge. Knowing what colors work together, proportions, layering texture, etc. I also do a lot of research when it comes to finding quality vintage. I don't always go to antique stores just to shop. I also use it as a learning experience. I find out more about quality items and brands so when I see them at Goodwill or a thrift store I know what I'm looking at and if it's a score or not.
This submission's responses and photos were edited for length/size and clarity.