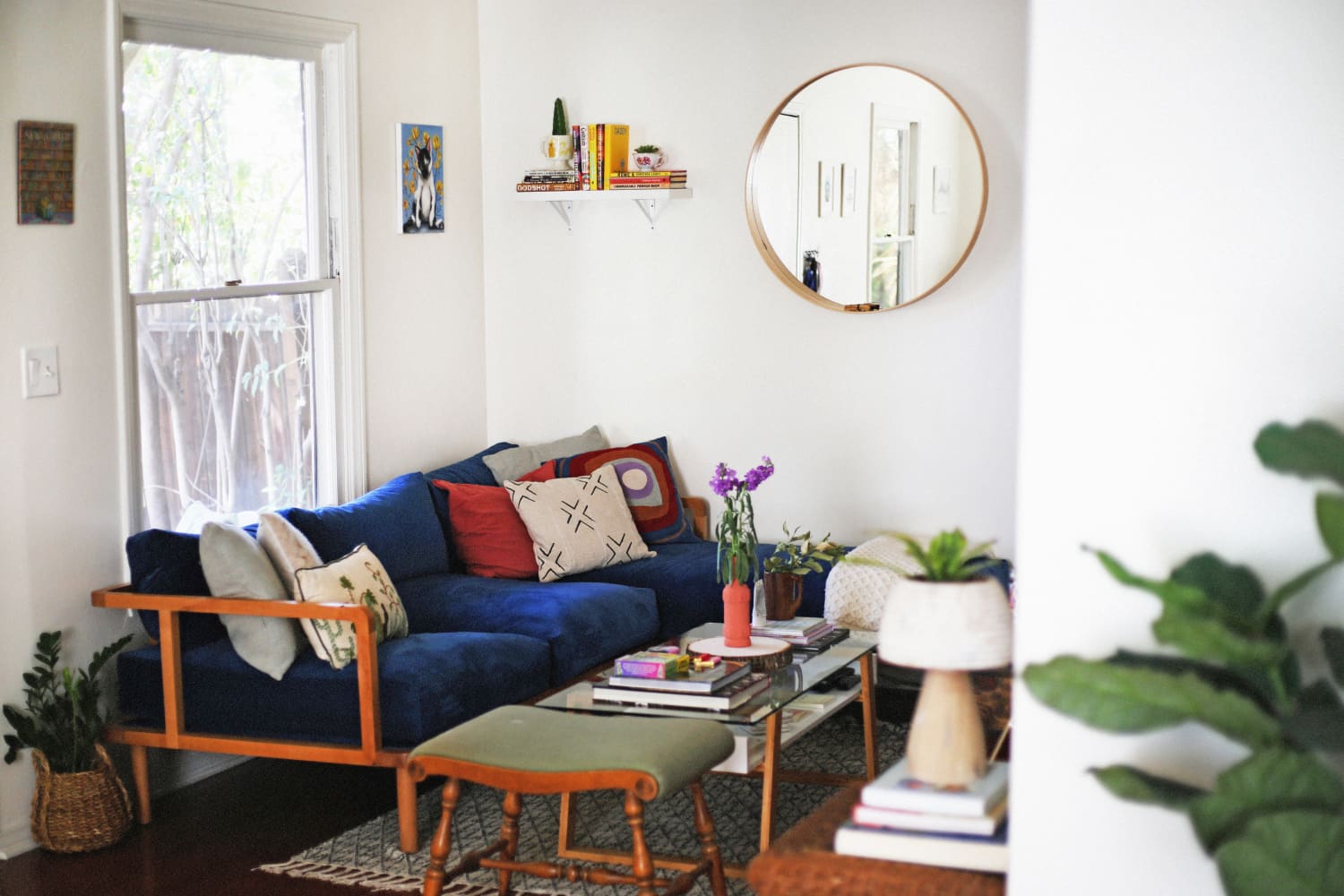 We independently select these products—if you buy from one of our links, we may earn a commission.
Name: Amanda Montell, Casey Kolb, and our pets Fiddle (the dog), Claire (the orange cat), and David (the black and white cat)
Location: Silver Lake — Los Angeles, California
Size: 800 square feet
Type of Home: House
Years lived in: 2.5 years, renting
"Our home was one of those Craigslist flukes where the listing looked sketchy as hell (no photos, scant description), but I just had a good ~feeling~ about it, so we went and saw it anyway, and knew instantly upon arrival that it was perfect," explains Amanda Montell, a language scholar and author of the books "Wordslut: A Feminist Guide to Taking Back the English Language" and the just-released "Cultish: The Language of Fanaticism." "The key draws of the house are the juxtaposition of giant yard/privacy (it's a little back house away from the street with lots of room for our three animals) and the stellar location (we're less than two blocks from the main drag of our neighborhood). The house is 120 years old, which is very charming and a little bit spooky. Unlike a more modern dwelling, the rooms are quite small, meaning there are all these hidden crannies in the home (including a secret back hallway with '70s-style wood-paneled walls), which make it feel extra cozy. I love tucking myself into the egg chair on our porch, gazing out at the palatial yard that has no business being in such a dense part of the city, and thinking about all the lives that have passed through this place."
"My boyfriend is a composer for film and television, so we turned our house's small spare room into a music studio for him, but that means the rest of the house is kind of my office, and I have so many favorite writing nooks — the corner of our L-shaped couch, at the little makeshift desk in my bedroom, in various chairs around the yard. I spend my time here writing, reading, watering the plants, chasing the dog around the yard, doting upon the cats, re-watching some comfort television show or cooking competition to soothe the anxiety and ennui of contemporary American existence, and drinking lots and lots of coffee, sparkling water, and wine."
Apartment Therapy Survey:
My Style: California cottage-core
Inspiration: I've always loved the feeling of a cozy woodland cabin meets a cottage in the South of France. Think: Miss Honey's house in "Matilda." I also spent the past year in lockdown writing my second book, which is about cults, a topic with strong '70s overtones, so I couldn't help but feel influenced by that. (We've acquired more ceramic mushrooms than I care to admit.)
Favorite Element: That would have to be our 1920s upright Wurlitzer, which we bought from this kooky vintage piano dealer downtown. It's a mechanical player piano, so if you pedal these foot levers at the bottom (it's quite the workout), it will actually play itself. We have all these 100-year-old scrolls that we can pop in the piano to make it play different songs. It's the best party trick. (The piano can also be played normally, and my boyfriend Casey puts on a little mini concert for me and the pets almost every night.)
Biggest Challenge: The floors in our bedroom and Casey's studio were pretty unsightly when we moved in — they were the same black-and-white checkered pattern you see in the kitchen and bathroom. Really intense. We considered many different solutions, from just using area rugs to cover them to laying down those cheap clip-together faux-wood foam flooring pieces. In the end, we just hired someone to lay down wood laminate planks, and we're so glad we did. It cost about $500, but it was completely worth it.
Proudest DIY: I've taken up some really basic crafting in quarantine, like buying clear glass vases for $1 a piece from the thrift store and using baking soda paint to transform them into expensive-looking pottery.
Biggest Indulgence: Again, the piano. It's the most expensive item I own (I think it cost over $3,000?), but it brings such life and character to the house. I've never felt more confident about a purchase.
Is there something unique about your home or the way you use it? We have two small spare rooms in the house, in addition to our bedroom. We turned the room just off the dining room into a music studio for my partner, and it's fun to bring guests in there, seat them on the bright orange loveseat, and show them what he's working on. We also have a tiny room in the back that we call our "kitty room," because it's where the cats' food, litter box, and monstrous cat tree (in addition to other miscellaneous storage) are kept hidden out of sight. We also really do use our gigantic yard as extra living space, and there are different spots to sit all over the place. My favorite spot from which to conduct Zoom meetings is the egg chair on my porch — I bought a second-hand plant stand that's the perfect height for my laptop.
What are your favorite products you have bought for your home and why? We're a house of knick-knacks and tchotchkes. We bought a ton of prints by local artists for the house (most from a neighborhood boutique called Dust Muffin, and some — like the custom oil painting of my cat, David — were made by our incredibly creative friends). We also have some fun instruments displayed, like the morin khuur my boyfriend picked up on a recent trip to Mongolia. And so many candles. My favorites are the Stevie Nicks and David Bowie magic candles we got from Hidden Treasures, a mystical magical vintage store, in Topanga.
Please describe any helpful, inspiring, brilliant, or just plain useful small space maximizing and/or organizing tips you have: I finally realized at some point last year, after I'd already written a book and a half literally lying down in bed, that it was high time I grew up and bought myself a desk. Except at that point, our house was already set up and we had zero room for one. So instead, I bought this set of vintage bamboo nesting tables off Etsy and stuck them in my bedroom corner, and I use a little side table (with a cushion I sewed myself!) as my chair. I'm only 5'1", so it works for me. It's like a desk for a Keebler elf.
What's your absolute best home secret or decorating advice? Don't pay attention to decor trends—surround yourself with objects that feel like you! I'd take personality over polish any day.
This house tour's responses were edited for length and clarity.