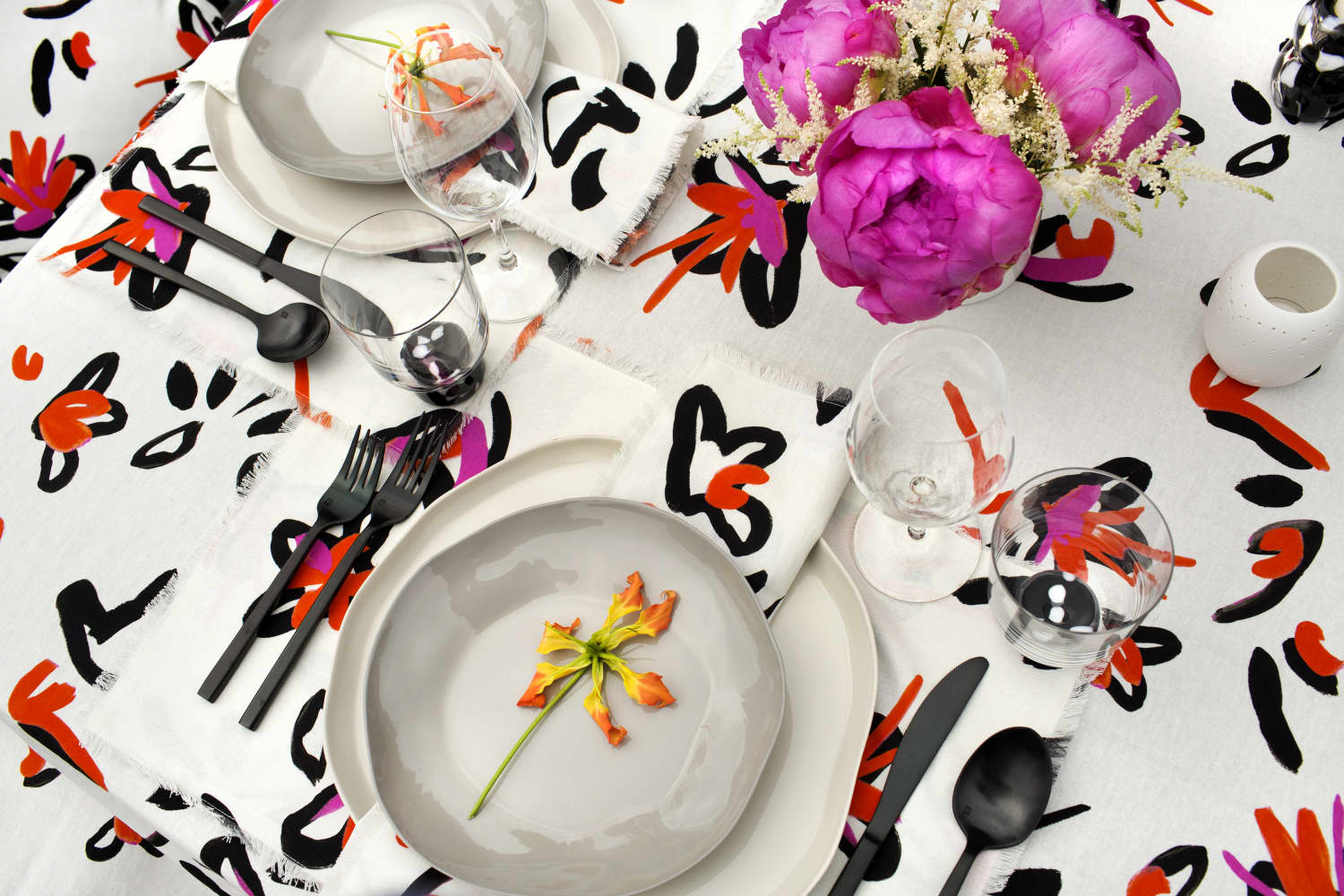 Color enthusiasts, clear your tables! New York-based fashion designer Tanya Taylor, known for her punchy prints and celeb following, is officially giving her beloved clothing a second life — in decor form. The designer (in two senses of the term) just launched her inaugural interior line, Tanya Taylor Home, which features pillows, napkins, table runners, and placemats all created with fabric from her spring and summer apparel collections. Fans of the label will definitely recognize the pretty patterns — like the hand-painted Pigment Splash and bold Large Scale Poppy — but newcomers are sure to find a fave(s) from the vibrant offerings, too.
"Home is a natural extension of the brand, because I've always been interested in creating a world for women to feel more creative and inspired, originally through clothing and now through how they express themselves in their personal spaces," Taylor says of the launch's inception.
The backstory also largely links to Taylor's trendsetting mom. In true proud parent fashion, her mother's Barbados home is fully decked out in leftover Tanya Taylor fabrics, down to the lampshades and headboards. So last January, when the color-obsessed designer shared snippets of the space to Instagram, followers instantly latched on — flooding her DMs with over 6,000 home-obsessed requests — and the rest was history.
Now, just five months later, the finished products (starting at $60) couldn't have hit the home circuit at a better time — summer hosting has officially resumed. In fact, the whole collection centers around bringing an "energetic spirit" to the tablescape, no matter your entertaining style.
As for her own hosting habits, it's safe to say Taylor got that from her mom, too. "I'm a forever entertainer and grew up in a home that took the playfulness and polish of entertaining seriously," she adds. "My mom brought wit and spirit to every party she planned, so I'm excited for this launch as a way to share our art."
For those looking to bring even more bright vibes into your home life, you can also request pricing for three larger printed Tanya Taylor Home pieces: a sofa, chair, and outdoor hammock. The more cheery patterns, the merrier.