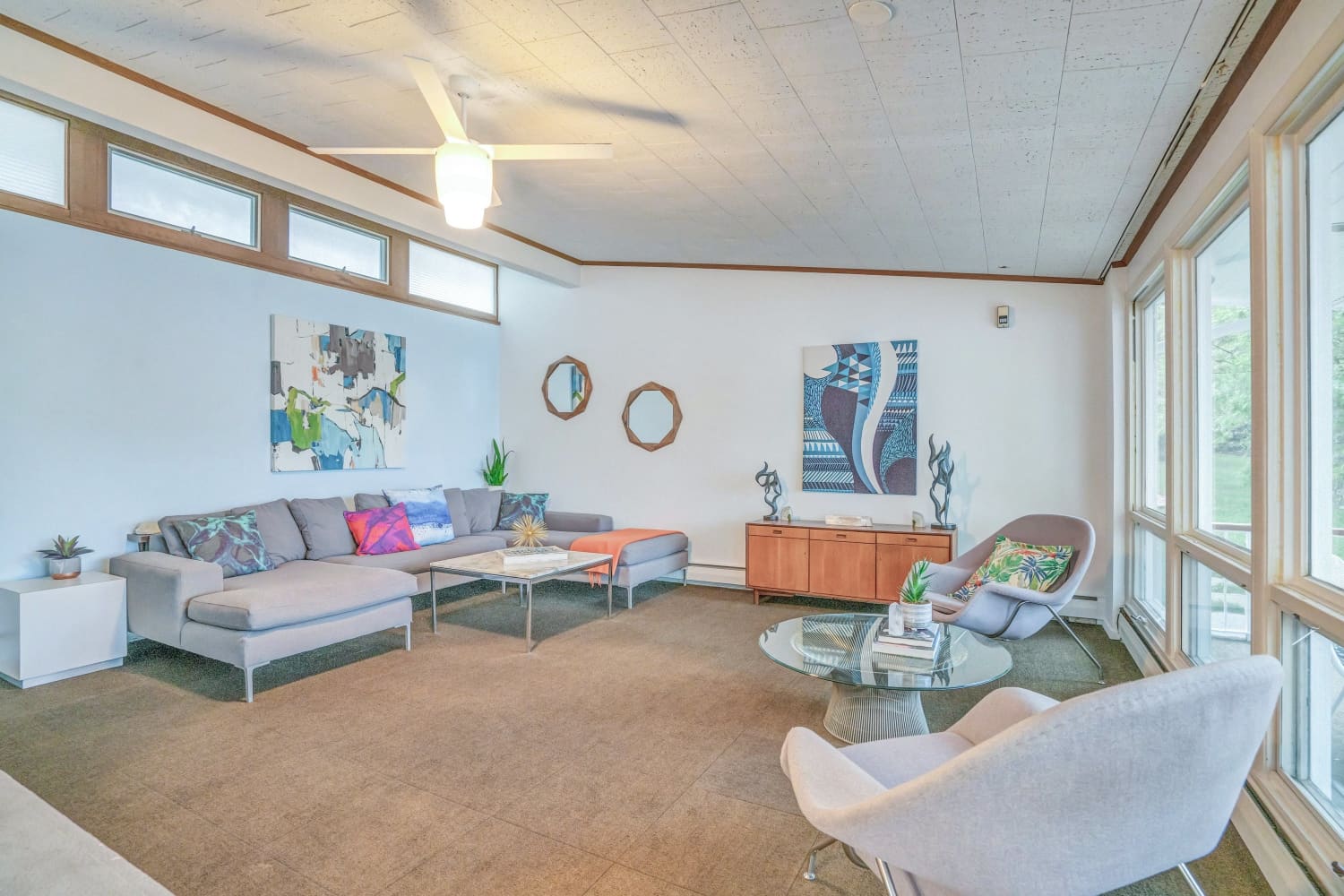 He may say "No Sleep Til Brooklyn," but Beastie Boys star Ad-Rock slept pretty well in Jersey for 15 years. The hip hop icon (real name: Adam Horovitz) and his wife, equally-as-iconic musician Kathleen Hanna of bands like Bikini Kill and Le Tigre, have listed their summer home in Hewitt, New Jersey for $975,000. And just as you'd expect from the pair, the home is as unique as it gets.
The three-bed, three-bath mid-century modern home, which was built in 1955, is set on on 200 feet of prime lakefront, and boasts an incredible contemporary design that retro enthusiasts will go for. The roomy kitchen embraces the mid-century time period, and has a center island with bar seating, as well as a dining area for family gatherings. Continue on into the living room, where a white brick fireplace with wooden features embraces the mid-century vibe, and oversized windows stream in natural light from the waterfront. On the lower level, a huge family room offers a variety of spaces to hang out, whether in front of the TV or in the den-style area. Each bedroom has big windows that show off the natural beauty outside. An open-air porch offers a cozy nook, while the expansive patio provides an excellent space for entertaining guests and enjoying the bucolic environment.
Outside, stunning rolling grass and mature trees dot the peaceful property, while the dock offers a spot right on the water to enjoy the lively waterfront community by boat. Nearby, there's a beach, meetinghouse and playgrounds that offer plenty of activities for a busy family who wants to enjoy the laid-back scene.
"The reason they left it in its mid-century condition is that people that like mid-century LOVE mid-century, and when you find something that has been preserved from that era inside a house of that era that's very groovy and specific it's almost sacrilegious to renovate it." the listing agent, Maggie Sherman D'Aquila, said in a statement.
If you think the property looks a bit familiar, you're not wrong. All of Hanna's interviews from "The Punk Singer" documentary took place at the house.
The couple purchased the house in 2006, but have found themselves spending more time on the West Coast these days. Back in March, they listed their Chelsea apartment for $3.15 million, and that property is currently in contract.